Guiding a world-leading manufacturer toward a 200%+ increase in daily leads
Sullair, a leader in manufacturing compressed air solutions for over 50 years, approached Candorem in late 2016 to discuss redesigning their global brand's digital experience with a heavy focus on user experience (UX).
We were tasked with leading various departments, vendors, and stakeholders toward a unified goal, collecting critical user feedback, and designing an on-brand solution on a new content management system (CMS) platform in exactly five months. All leading up to the premiere industry event where they rolled out a flagship product and announced their acquisition by Hitachi Group.
No pressure, right?
Workshop
User Testing
User Experience (UX)
Web Design
Web Development


Days before Thanksgiving, we traveled to Sullair's headquarters in Michigan City, Indiana to facilitate a workshop that hosted senior department heads from sales and marketing to customer support and IT, and leadership from key vendors in multiple countries.
We had to collect 50 plus years worth of purpose and unravel the complex network of varying needs between internal and external stakeholders.
We didn't have time for our usual group activities and ideation because participants had flights to catch. This was a large round table, facilitated, discovery session.
In roughly four hours we were able to distill the most important needs for customers, the business, and its partnering vendors. The result was a 50 page report detailing current problem areas, specific needs, and opportunities that could impact the business as a whole; not just their website.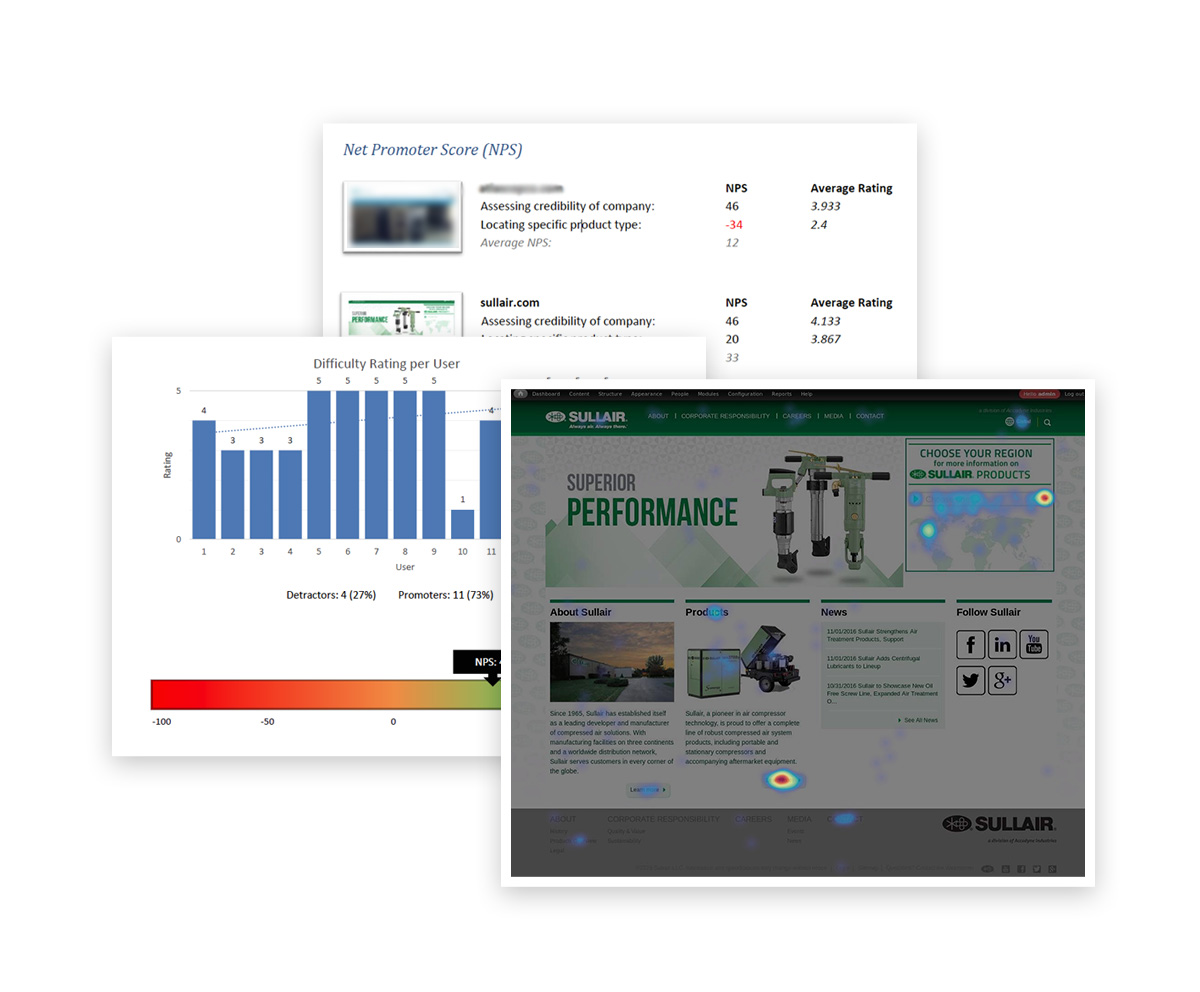 Following the workshop we crafted a detailed outline for validating the proposed strategies to generate a baseline report on the existing sullair.com website. This consisted of conducting a competitive analysis on competitor websites to better understand the marketplace expectation of presenting information to distribution partners, sales, and customers.
Much to the surprise of Sullair, their existing website received the highest average NPS for assessing credibility of company and locating specific product types.
It was our job to better execute their needs across the board to improve lead generation and create a more intuitive path toward specific product information and improve their scores across the board. Doing this successfully would generate an increase in revenue on, potentially, a daily basis.
After collecting direct feedback from all key users and defining specific methods to capitalize on missed opportunities we visualized the strategies.
Information Architecture (IA)
We used in-depth information architecture  maps to address the technical requirements of page templates and general navigation (UI).
Wireframes
Building on the IA, we visualized the ideal user flow to create intuitive paths toward important information with each user type.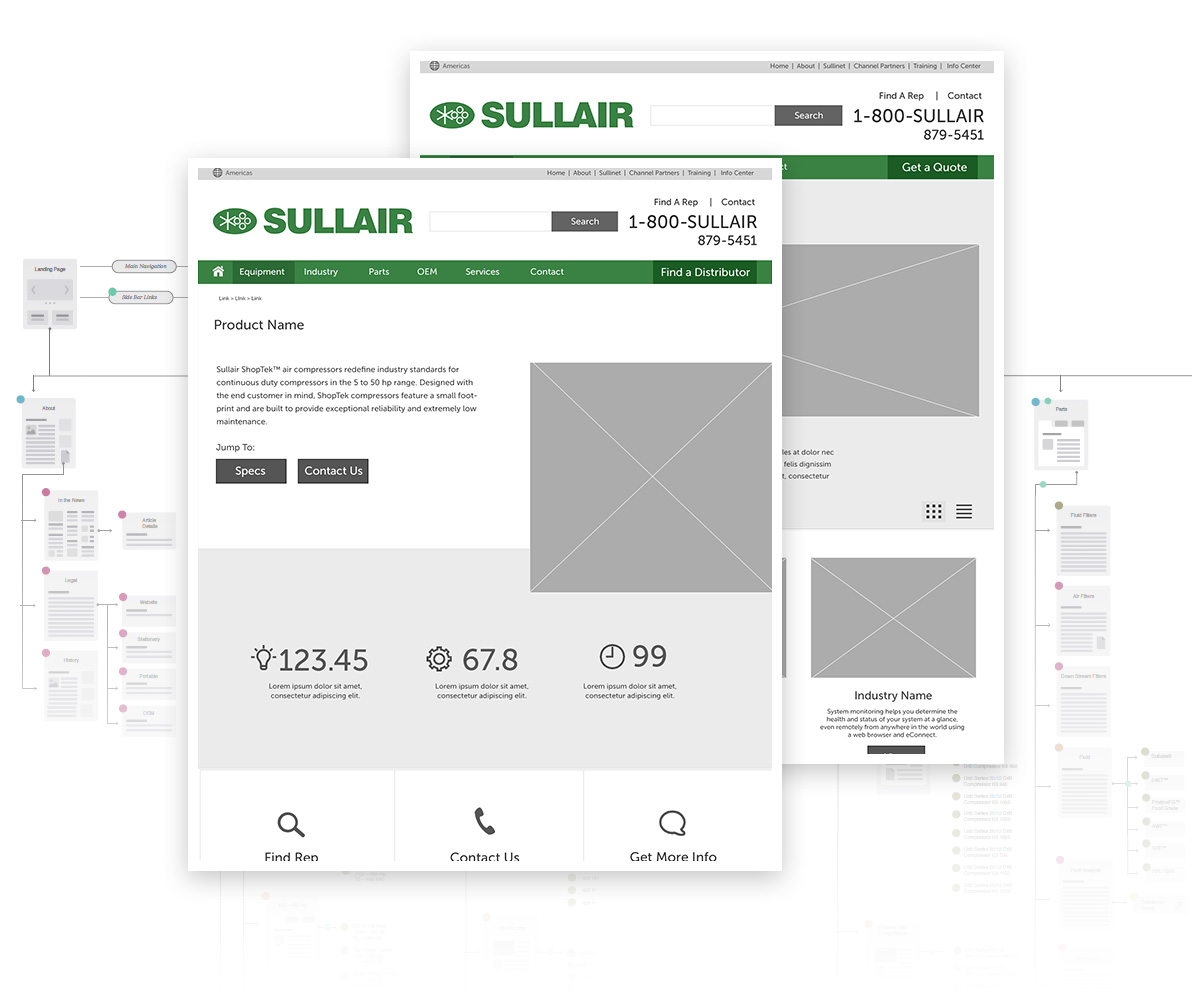 Not only were we able to successfully launch the website on time we were able to create a lead generation platform for Sullair's distribution partners, vendors, and their own internal sales department.
An increase of 200-500% in lead generation per day could feasibly double their own revenue over the course of a year. What kind of an impact would that make in your business?
increase in leads per day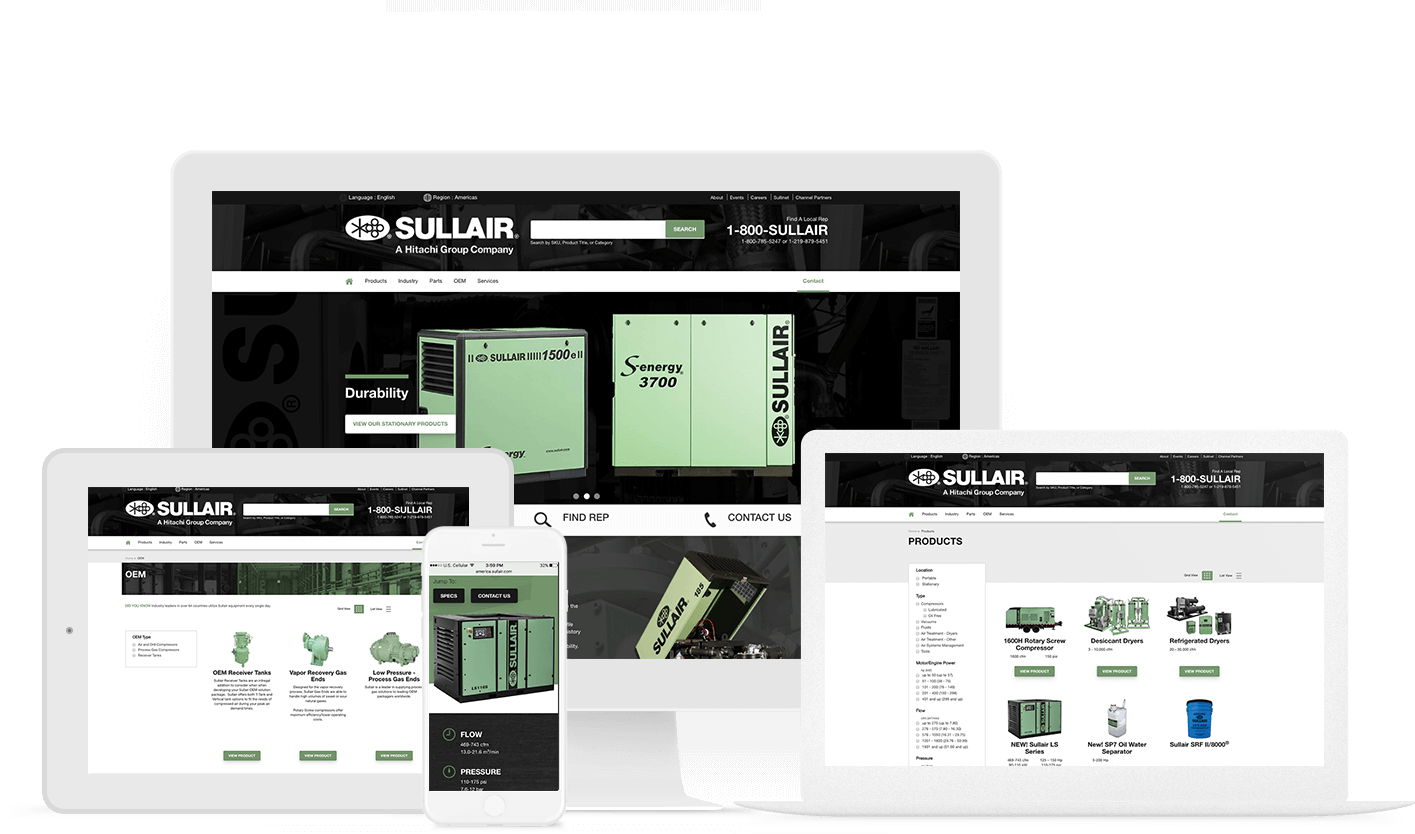 We have experienced two major benefits. From an internal standpoint - the new content management system makes it significantly easier to update the web pages making it easier to keep our site up-to-date. And the most up-to-date information benefits all throughout the chain - end users; distributors; sales. Externally - our site is significantly easier to navigate - especially utilizing the search function.

David Andrews

Director, Marketing Communications